Seven times the unconventional career path worked
May 11, 2017
For those of us with graduation teetering on the horizon, the palpitating panic of "What comes next?" is no foreign feeling. As a life of employment is ever encroaching, you thought by now you've have some idea how it would take shape, right?
Alas, there are many paths to attain career fulfilment, and you've got ample time to get there. While an immediate corporate contract at an entry-level wage ticks boxes, the enduring slog of hardship might fit you best. There's no harm in a career as a barista on the way to materialising passions and chasing dreams! In fact, it's the fortitude of ambition that leads anyone to the success they crave.
So the lesson is this: take a gamble on all your passions and have faith that they might unfold into something extraordinary. These guys did, and look how it turned out for them…
Alex Dyson
Comedian and Radio Presenter, famous for his work with Triple J, Alex studied creative writing at Melbourne University. Collaborating with classmates, he created amateur backyard podcast, discovering a way to amalgamate his spoken charisma and proficiency with the written word. This opened doors for a career in comedy, journalism and music, where all his passions aligned.
Donald Glover
Glover's career springboard wasn't always his forefront passion – studying dramatic writing, he sought writing work everywhere. Turning the heads of producers, Glover was contracted to write for 30 Rock, and later released an album as Childish Gambino. With countless cinematic, television and production credits, awards, albums and tours to his name, on his customs paperwork he now has a tonne of occupations to list.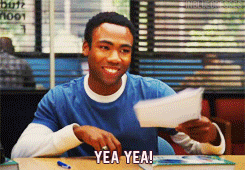 Miuccia Prada
An heiress to an empire, but unsure that designer handbags would be in her stars, Prada trained as a theatrical mime and later attained a PhD in Political Science. She shook things up in the Italian Communist Party and as leader of the 1970s Feminist Movement before returning to fashion, pioneering design and running fashion's largest dynasty.
JK Rowling
No stranger to rejection, the wordsmith was denied by Oxford, and studied a BA in French and Classics elsewhere. In the 11 years between graduation and Harry Potter reaching shelves, Rowling worked as a secretary to make ends meet. Years of turmoil (divorce, grief, parenthood and poverty) became building blocks upon which Rowling's talents could flourish.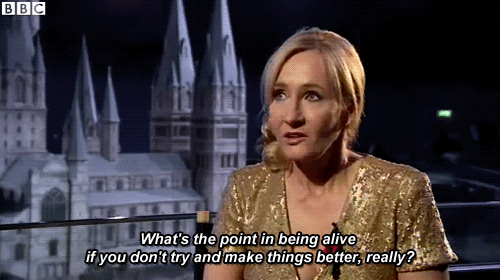 Lin Manuel Miranda
Miranda's promise and passion for music was always headed for stardom. However after studying theatre, he taught English to make ends meet. Meanwhile, he wrote his first blockbuster musical, quitting teaching to pursue it. This gamble payed off – Miranda boasts many Tony awards and even a Pulitzer, and his latest gig was writing the soundtrack for Disney's Moana.
Tina Fey
Comedy trailblazer of SNL fame, graduated with a BA in Drama. Fey worked a receptionist job for five years to supplement further night classes she was taking, before being noticed for her work with a sketch-comedy improvisation group. This propelled her work in comedy across television and film. She's now a household name with thanks to her myriad of skills and guts to take a risk.
Stephen King
The sovereign of horror studied a BA, and in the years before he his literary work was noticed, he laboured as a janitor and a gas pump attendant. Flash forward and King has sold 350 million copies of his novels worldwide, with countless film adaptations that have touched us all.
The next time you resent that lightless tunnel of retail work or the dead-ended opportunity you've signed up for, remember that the remarkable is only a cocktail of relentless effort and zealous focus away. You've got this.
Bridget O'Brien
Bridget studies Classical Voice at the Queensland Conservatorium in Brisbane and is passionate about show-tunes, trivia nights and Robert de Niro playing bad guys.
Image: 30 Rock official Facebook page