These are the signs you're wasting your uni years
July 17, 2017
Uni life could be some of the best years of your life, but it could also be a bit of a drag if you don't make the most of it. There's friends, freebies and a whole lot of fraternising at your disposal, it's just up to you whether you get involved. These are some of the signs that you may be wasting your precious uni years and not getting the most out of the experience.
Going to class and not listening
When you've snuck in late to a lecture and you're sitting in the back row, chances are you'll be a bit lost without the introductory context. But instead of trying to take notes and comprehend the rest of the lecture, you've probs started scrolling through Facebook or doing a bit of online shopping instead. If that's the case, you may as well not go to class.
We feel ya, sometimes it's compulsory and it's a particularly boring core subject you can't avoid. But if you do go to class, make the effort to listen and learn something – you're paying a shitload of money to be there.
Not making the most of the uni bar/uni parties
OK, so Australian unis aren't exactly what you see in those college movies – there's no frat parties and sorority soirees. So take advantage of the fact that at most unis, you can drink on campus. Many US colleges have dry campuses, which means you have to go all the way out of the grounds to get yourself a drink (and the legal age is 21, so where would you rather be?). Think discounted drinks, cheaper food and some bars will throw in a pool table and maybe even a trivia night.
The same goes for uni parties – when you leave uni, it'll no longer be acceptable to attend. So get on the fun student party vibes.
Continuing to do a degree you hate
You can do anything you want – so if you're continuing to do a degree you hate because you think the money will be good when you graduate, chances are you're wasting precious years of your uni life. If you hate your degree, chances are you won't be looking back on your uni years fondly. Instead, you'll be wishing the uni years away instead of making the most of them.
If you can look at other people's degrees and wish you were doing that instead, just bite the bullet and make the switch. Better now than waiting until the end of your degree, only to start all over again.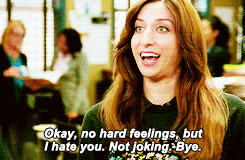 Clinging on to your high school friends instead of making new friends
If you're turning up to the bare minimum of classes, not talking to anyone and heading home straight after, chances are you're not making the most of the social side of uni. You might think you already have a great group of friends, and maybe you do. But things change, particularly when uni starts and you all go off and do your thang.
For the first time in your life, you're put together with other students who have similar interests to you – or at the very least, the same interest in degree. Strike up a convo with the person next to you in class or turn a group assignment session into drinks at the uni bar after – you'll probs have a lot in common.
Not using student perks while you can
It goes beyond the token 10 per cent off code for clothing. As a student, you can get a lot of shit for free that you can't in the real world, so make the most of it now. Want a new laptop? There'll be a discount for that. Most unis will also offer free Microsoft Office downloads so you don't have to fork out an extra couple hundred on top of that.
Students get cheaper travel perks, subscriptions, fitness memberships and so much more – before you buy anything, do some digging and see if you can flash that student card.